A Passion for Modernist Architecture by Alison Edwards
After many years of cataloging early Country Life magazines for their fascinating illustrated main articles on English country houses, stately homes and castles, a particular era that feeds my passion for luxury design and elegant craftsmanship is the 1930's. Prestigious London homes by Mr Oliver Hill with his interiors and beautiful curved external walls that compliment the Art Deco fixtures and fittings by interior designers such as Serge Chermayeff of Waring & Gillows, glass work by Raymond McGrath and murals by Eric Ravilious. Many of these designers worked together and really did create the most luxurious homes for discerning clients throughout the 30's.
One of many that featured in Country Life is Cherry Hill, an Oliver Hill masterpiece that stands proudly on Wentworth Estate at Virginia Water (recently on the market for a snip at £30 million plus) built in 1935 and featuring in Country Life magazine the same year, known then as 'Holthanger'. It was Katherine Hannah Newton, a successful business woman who commissioned Oliver Hill to design a home for her. Cherry Hill is a fine example of Hill's later modernist work which had moved away from his earlier more traditional methods of weather boarding and thatch which is seen at Valewood Farm, Hill's own weekend home in Sussex and Wood House Copse in Surrey, most definitely influenced by the work of Sir Edwin Lutyens. Both of these properties also featured in Country Life, under the title 'The Lesser Country Houses of Today', smaller illustrated articles published towards the back of the magazines and often rarer to find.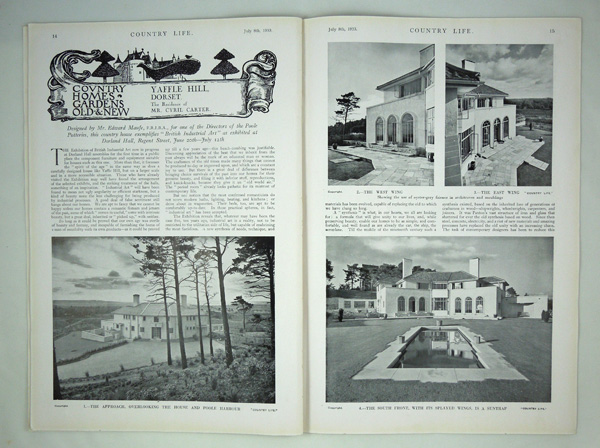 The 1930's also saw architects like Edward Maufe, where work moved from the Arts and Crafts to the Modernist style with designs like Yaffle Hill in Dorset, built for Mr Cyril Carter and appearing in Country Life in July 1933. Later in 1936 came the ambitous project by John Seely and Paul Paget causing some controversy with their designs to transform the Medieval Eltham Palace wishing to incorporate a modern mansion with luxurious Art Deco interiors for Mr and Mrs Stephen Courtauld. All the restoration work and modern additions to Eltham Palace feature prominantly in Country Life in 1937 over three consecutive weeks.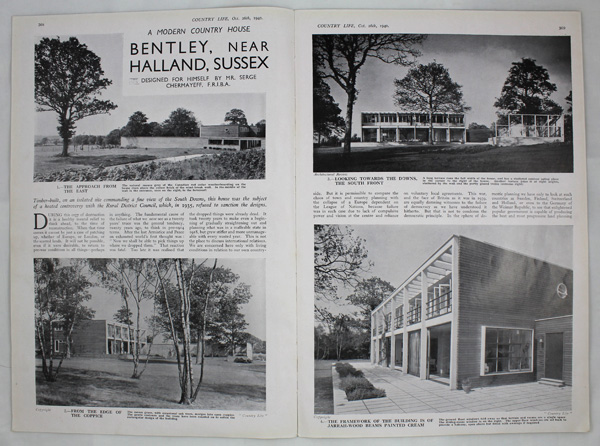 Serge Chermayeff's home Bentley Wood in East Sussex, which he designed and completed in 1939 featured as a main article in Country Life in November 1940. As mentioned above Chermayeff worked for Waring & Gillows, he was one of London's best known young interior designers in the 1920's and worked with Erich Mendelsohn on the aestheically pleasing De La Warr Pavillion in 1935. Chemayeff also formed part of the collaboration of designers and architects including Edward Maufe and Wells Coates under the direction of Raymond McGrath on the interior designs of Broadcasting House, London. His own home, Bentley wood is one of the later 1930's modern houses that was significantly important and was to influence many fellow architects through the next two decades.
I have only mentioned a small amount of modernist country houses and their architects that featured throughout the 1930's and 40's in Country Life. Many of these houses, some barely eighty years old are now becoming listed buildings looked after by the National Trust and English Heritage. The 1930's certainly was an important period for architecture and lavish interior design which no doubt will continue to influence our creatives and designers of today.