William Henry Pyne and The History of the Royal Residences

From King's Presence Chamber to King's Bench Prison.

The story of passion and over stretched ambition to publish books which are today considered one of the most important works of art on paper of English Royal homes. William Henry Pyne's ambitious project sought to bring together a collaboration of the best architectural artists and engravers at the turn of the 19th century with the task to illustrate the interiors, furnishings and decorations of six royal homes. This quest saw Pyne face unmanageable amounts of debt leading to bankruptcy and imprisonment before its completion in 1819.

Originally published as 25 parts in printed wrappers between 1816 and 1819 and then as a collated works of three volumes printed by A Dry in 1819, The History of the Royal Residences proved highly expensive to produce with Pyne's desire to use the finest quality materials and paper along with the most eminent artists and engravers of the time.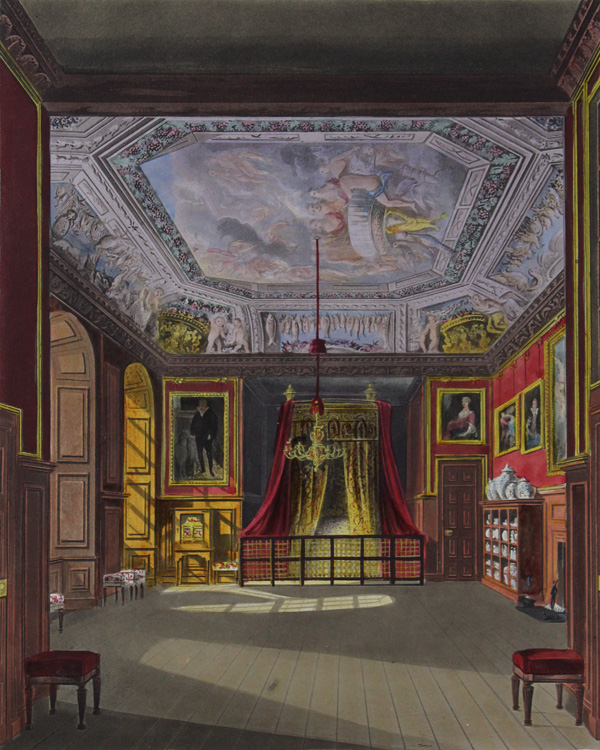 One hundred fine hand coloured aquatint plates were produced illustrating Windsor Castle, St James's Palace, Carlton House, Kensington Palace, Hampton Court and Frogmore. Only one exterior view of each Royal home was included with a further 94 plates illustrating the splendour of the interiors, furniture, paintings and exquisite decoration, intricately drawn and highly finished in fine water colour with gum arabic embellishments. The original artwork was produced by five artists, predominantly Charles Wild who contributed 59 of the images, with James Stephanoff producing 25, Richard Cattermole 9, William Westall 6 and George Samuel 1.

Much of the original artwork drawn and painted for the production of the plates are held in the Royal Collection. The engravers employed were Thomas Sutherland, Richard Reeve, William James Bennett, Daniel Havell and James Baily. On producing the books Pyne used the world renowned paper of Turkey Mill used by the likes of J.W.M Turner, William Blake for his romantic water colours and later at request by Queen Victoria for all her personal correspondence. The paper produced by James Whatman at Turkey Mill bares the water mark 'Turkey Mill' or 'Whatman' and can be seen on many of the plates produced for Pyne's books.

Complete sets of 'The History of the Royal Residences' are becoming increasingly harder to find. The books are sought after by historians, collectors, architects and interior designers. The plates hold an important record of the interiors, art work and furniture in situ at the time. King George IV's town residence Carlton House being of particular importance as the mansion was demolished in 1826 whiched then helped to pay for the renovation of Buckingham House into Buckingham Palace as it stands today.
Search our website for original prints from the series and more.